The Curtis Collection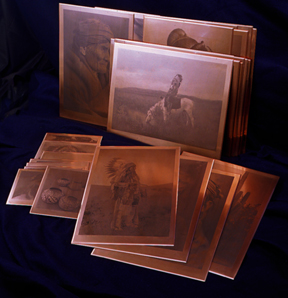 Purchase and collect the Copper Photogravure Plates created by Edward S. Curtis for his epic life work, "The North American Indian".
The Curtis Collection has owned the entire Edward S. Curtis Copper Photogravure Plate collection, the most extensive ever produced or assembled, since 1981. These Plates are both a historic documentation of Native Americans and, also, valuable artifacts. Follow this link to the CURTIS COLLECTORS' PLACE to purchase and learn about these magnificent Plates, described by many as "ASSETS LIKE NO OTHER".
For REFERENCE MATERIALS concerning Edward S. Curtis, "The North American Indian" and our complete image library, click on the link provided.